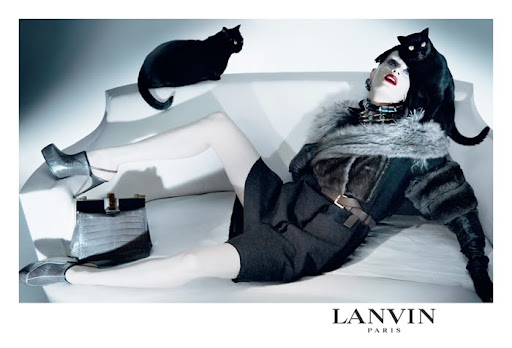 Anyone claiming to be a true label-reigning fashionista must certainly know of the fashion house Lanvin as a right of passage (Laan-vaan, please never say "Lanvinn" in my presence). If not, then you're very behind and need to get researching right now. Having not gone totally global is no excuse for not knowing a very famous chic brand, and the fashion shows alone tell of its far reaching fame, with the Olsen twins, Andre Leon Talley, Bruce Willis and Katy Perry regular attendees.
Alber Elbaz, creative designer extraordinaire, put together an ad campaign that has me constantly being drawn back to it. Models; thin, pale and practically Lanvin-esque, cover the pictures and are alluring symbols for the cats draped over them, with almost robotic-trance like eyes, and shades that had me thinking a bit between
the Matrix
and
Men in Black
. I found them pretty interesting and they had that creative look with the Little Black dress, of which Lanvin's version is now as famous as Chanel's
A last year look back, but excellently put together, and a late congrats to Alber Elbaz.
The above picures are stupidly cropped, but if youre interested in the full pics, you can find them under Lanvin 2009 ad